Dr. Sandra Helmers Memorial Scholarship
Sandra L. Helmers, M.D., M.P.H. was a pioneer in the field of epilepsy and her distinguished career impacted not only the lives of people living with epilepsy but professional colleagues who she mentored and collaborated with as well.  
Dr. Helmers held many prominent positions including attending epileptologist at The Children's Hospital Boston followed by Professor of Neurology and Pediatrics at Emory University until her untimely death from cancer in 2016.  She was a Fellow of the American Board of Psychiatry and Neurology and the American Clinical Neurophysiology Society, a Diplomat of the American Board of Psychiatry and Neurology and the American Board of Clinical Neurophysiology as well as a member of the National Epilepsy Foundation Professional Advisory Board and the Practice Management and Treatment Committees of the American Epilepsy Society.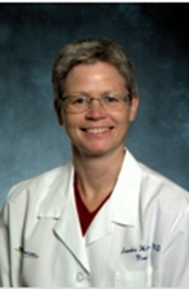 Dr. Helmers' educational background is notable for receiving her medical degree from the University of Cincinnati, completing internship at Columbia University, residency at the Mayo Graduate School of Medicine, and clinical neurophysiology fellowship at the Massachusetts General Hospital/Harvard University.  Several years later, she returned to the classroom to complete an MPH at Rollins School of Public Health, Emory University.
Dr. Helmers major research interests include development of medical and surgical treatments for epilepsy including vagus nerve stimulation, epilepsy genetics, health outcomes, and health economics.  She is the recipient of many research grants and has published over 100 peer reviewed articles along with numerous book chapters.  Dr. Helmers had a passion for helping women and girls living with epilepsy as well as promoting girls entering the STEM fields.
Dr. Helmers was also a wife and a parent to four wonderful children.   She and her wife, Cathy, were together for 27 years.  Beginning in 1997 they added children to their family.  First there was Elizabeth who was born in China.  Next Friday, Elizabeth will graduate from the University of Georgia with a Masters Degree in Marine Science and Ecology.   She attended George Washington University as an undergraduate where she majored in Biology and competed as a Division 1 gymnast.   In 1999 they added Catherine, also from China to their family.  Catherine is currently a junior in the Excel Program at Georgia School of Technology.  In 2001 Ally came home from Cambodia.  She is now a sophomore at West Virginia Wesleyan University where is majoring in Health Science and competes on their Acrobatics and Tumbling team.  In 2005 Matt came home from Guatemala.  He is currently a sophomore in high school and plays soccer as often as he can.   
Dr. Helmers loved her family before anything else.   As serious as she took medicine she was silly at home.  When asked what she did for a living she would reply "I work at Emory".   To her children she was "Amah".  She taught her children compassion and a love of science.  She taught them to not let anything stop them from achieving their goals.  She taught them that they could lose everything except their education and to learn every day.  She showed them her happiness in doing something you love as she practiced medicine.  But most importantly as a parent and a doctor she taught people to pay it forward.  
Dr. Helmers passing left a great hole in the hearts of many in the epilepsy community particularly, the community of My Epilepsy Story (MES) where she was a founding board member.  To honor Dr. Helmers' distinguished career, My Epilepsy Story (MES) has created the Sandra Helmers' Memorial scholarship for young women living with epilepsy who are planning to attend college or trade school.  To donate to the Dr. Sandra Helmers Memorial Scholarship please donate here.  We will begin accepting applications in the spring of 2021 for this scholarship.