Kimford J. Meador Research in Women with Epilepsy Award
Dr. Meador is a behavioral neurologist and epileptologist. His research is primarily focused on the behavioral and cognitive effects of epilepsy and its treatments. For over 15 years, his research group has studied the neurodevelopment effects of antiepileptic drugs, which has led to changes in FDA warning. Now this group is also studying other pregnancy outcomes in women with epilepsy and their children.  Currently Dr. Meador is a Professor of Neurology and Neurosciences at Stanford University, and Clinical Director, Stanford Comprehensive Epilepsy Center. Dr. Meador graduated from the Georgia Institute of Technology in Applied Biology (with high honor) and received his MD from the Medical College of Georgia.  After an internship at the University of Virginia and service as an officer in the Public Health Corps, he completed a residency in Neurology at the Medical College of Georgia and a fellowship in Behavioral Neurology at the University of Florida. Dr. Meador joined the faculty at the Medical College of Georgia (1984-2002) where he became the Charbonnier Professor of Neurology. He was the Chair of Neurology at Georgetown University (2002-2004), the Melvin Greer Professor of Neurology and Neuroscience at the University of Florida (2004-2008) where he served as Director of Epilepsy Program and Director of the Clinical Alzheimer Research Program, and Professor of Neurology and Pediatrics at Emory University (2008-2013) where he served as Director of Epilepsy and Director of Clinical Neurocience Research.  He joined the faculty of Stanford University in 2013. Dr. Meador has authored over 400 peer-reviewed publications. His research interests include: cognitive mechanisms (e.g., memory and attention); cerebral lateralization; pharmacology and physiology of cognition; mechanisms of perception, consciousness and memory; EEG; epilepsy; epilepsy and pregnancy; preoperative evaluation for epilepsy surgery; intracarotid amobarbital procedure (i.e., Wada test); functional imaging; therapeutic drug trials; neurodevelopmental effects of antiepileptic drugs; psychoimmunology; behavioral disorders (e.g., aphasia, neglect, dementia); and neuropsychiatric disorders. Dr. Meador has served as the PI for a long running NIH multicenter study of pregnancy outcomes in women with epilepsy and their children. Dr. Meador has served on the editorial boards for Clinical Neurophysiology, Epilepsy and Behavior, Epilepsy Currents, Journal of Clinical Neurophysiology, Neurology, Cognitive and Behavioral Neurology, and Epilepsy.com.  His honors include Resident Teaching Award Medical College of Georgia; Outstanding Young Faculty Award in Clinical Sciences Medical College of Georgia; Distinguished Faculty Award for Clinical Research Medical College of Georgia; Lawrence C. McHenry History Award American Academy of Neurology; Dreifuss Abstract Award American Epilepsy Society; Fellow of the American Neurological Association; Diplomat of American Neurologic Association; past Chair of the Section of Behavioral Neurology of American Academy of Neurology; past President of Society for Cognitive and Behavioral Neurology; past President of the Southern EEG & Epilepsy Society; ranking top 10 experts in epilepsy worldwide by Expertscape; Distinguished Alumnus Award for Professional Achievement, Medical College of Georgia, Georgia Regents University; Chair of Epilepsy Section, American Academy of Neurology; Fellow of Royal College of Physicians of Edinburgh, and American Epilepsy Society Clinical Research Award.
"For me personally, my most interesting behavioral experiment has been watching our children grow up and find their paths in life. An experiment full of discoveries, unexpected turns, and rewards. My dear collaborator in this endeavor is my wife Maggie." ~Kimford J. Meador 
Award Criteria and Instructions:
 Applicant must be the first author on the abstract submitted to AES.
 Applicant must be an AES member.
 Applicant must not have received this award in the last 5 years.
 Physicians at the early career level after fellowship and within 7 years of completing training, no higher academic title than Assistant Professor, and Instructors may be considered.
If chosen for this award, you MUST attend the AES Annual Meeting and the Women's Issue SIG (where the award will be presented). If you do not attend the annual meeting, the award will be forfeited.
AES will announce the awardees and their poster titles in the Program Book.
Please visit the American Epilepsy Society (AES) website to apply for this research award by following the Kimford J. Meador Research Award link below.
Kimford J. Meador Research Award
2021 Award Recipient: 
Dr. Naveed Chaudhry is an Assistant Professor of Neurology at the University of Colorado School of Medicine. He is also the Director of the Adult Epilepsy Diet Center and the Associate Medical Director of their Highlands Ranch Epilepsy Monitoring Unit (EMU).
He was born and raised in Upstate New York and completed his undergraduate degree at the University of Maryland, College Park. He completed his medical degree at the University at Buffalo Jacobs School of Medicine, followed by an internship in Internal Medicine and residency in Neurology at the University of Maryland Medical Center, where he served as Chief Resident during his final year. Most recently he completed a two-year fellowship in Epilepsy at the Johns Hopkins Hospital.
During his epilepsy fellowship, he became interested in the management of women with epilepsy. Through his clinical experiences, he discovered epileptologists had a unique and special relationship with women with epilepsy by helping them throughout their pregnancy. Under the mentorship of Drs. Emily Johnson and Gregory Bergey he began to develop a stronger interest in this field and started on clinical research projects. His current research is looking at life stressors in women with epilepsy compared to women without epilepsy. Additionally, he has co-authored a book chapter on preconception counseling that is forthcoming.
His additional research interests include global health, dietary therapies for epilepsy, and quality improvement in the EMU.
2020 Award Recipient: 
Dr. Sally Mathias specializes in the care of adults and adolescents with epilepsy. Originally from India, she completed her neurology residency at University of Kentucky followed by a fellowship in Clinical Neurophysiology epilepsy track at Vanderbilt University. After her fellowship, Dr. Mathias joined as Assistant Professor of Neurology and Epilepsy at University of Kentucky and the Veterans Affairs (VA) Medical Center in Lexington, Kentucky. She is also the Associate Program Director of the Adult Neurology Residency Program at University of Kentucky. Her clinical interests are women's epilepsy, especially pregnancy and epilepsy, epilepsy surgery, and status epilepticus. 
Dr. Mathias is actively involved in clinical research in the topics pertaining to her clinical interests while also involving trainees in quality improvement projects. She has co-authored a book chapter on "seizures" in a maternal-fetal medicine textbook, and another book chapter is underway. She is currently one of the collaborators on a Practice Improvement Project (PIP) for pre-pregnancy counseling/ folic acid use for the American Epilepsy Society (AES) practice management committee.
2019 Award Recipient: 
Dr. Deepti Zutshi is an Assistant Professor of Neurology at Wayne State University School of Medicine. After completing medical school in the 6-year BS/MD program at the University of Miami Miller School of Medicine in Florida, she continued her residency and fellowship training at Emory University in Atlanta. It was under the guidance of mentors such as Kimford Meador, Suzette LaRoche and Sandy Helmers that developed a strong interest in women's health, pregnancy and epilepsy and critical care electroencephalography. 
After Dr. Zutshi joined Wayne State, she immediately perceived that women with epilepsy were not receiving dedicated epilepsy care, counseling and family planning. Furthermore, Detroit was nationally recognized as having one of the nation's highest infant mortality rates with the possibility that women with epilepsy were even further affected by this statistic. This led to launching the High Risk Epilepsy and Pregnancy clinic at the Detroit Medical Center which has thrived over the last six years. Collaborating with high risk pregnancy and materno-fetal medicine specialists, Dr. Zutshi has established a clinical practice, patient outreach and education and clinical research in working with women with epilepsy living in an urban environment.
Looking to the future, Dr. Zutshi hopes to use her knowledge and experience in helping women with epilepsy achieve healthy and successful pregnancies through education and outreach.  As she was once mentored, she also enjoys educating other physicians and budding neurologists on how to take care of women with epilepsy. 
2018 Award Recipient: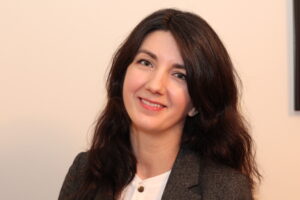 Dr. P. Emanuela Voinescu is a Junior Faculty/ Investigator at Brigham and Women's Hospital/ Harvard Medical School. Originally from Romania, she started on the research path when, during medical school, she won summer undergraduate fellowships at California Institute of Technology and worked under the mentorship of Dr. Mary B. Kennedy.  After a solid training in the molecular underpinning of synaptic specificity and plasticity, as a PhD student in the lab of Dr. Joshua R. Sanes at Harvard University, she pursued clinical training in Neurology and subspecialized in Epilepsy, a fascinating disease where the neuronal connections are dysfunctional.
She is currently focusing her clinical and research efforts to improve the care of women with epilepsy of childbearing age, working closely with Dr. Page B. Pennell. Her research so far has focused on optimizing the selection of the antiepileptic regimen in the preconception settings and fine-tuning it to adequately compensate for the specific drug clearance changes during pregnancy.
Her most recent work revealed that women with frontal lobe epilepsy have the highest risk for seizure worsening during pregnancy, even with adequate therapeutic dose monitoring. For most pregnant women, seizure worsening starts predominantly in the second trimester. She plans to look further into the physiological underpinnings of this finding.  Dr. Voinescu's long-term goals are to work towards deciphering how the complex interplay between sex hormones and genes influence the pathophysiology of epilepsy, the response to treatment and drug metabolism.
2017 Award Recipient:
Dr. Michael Kinney is originally from Ballymena, County Antrim, in Northern Ireland. He now lives and works in Belfast, Northern Ireland, in the Royal Victoria Hospital, the main neurosciences centre in Northern Ireland. He is completing his training in Neurology and has worked in various hospitals in Northern Ireland during his training.
Dr. Kinney initially obtained a Bachelor's degree in Pharmacology and Therapeutics, and went on to obtain his medical degree with distinction from the Queen's University, Belfast in July 2008, and obtained membership of the Royal College of Physicians (UK) in 2012, completing the Neurology Specialty certificate exam in 2015. He is a member of the American Epilepsy Society, Irish institute of Clinical Neurosciences, and the Association of British Neurologists.
Kinney has been interested in epilepsy since the early days of his training in neurology, to include the issues around epilepsy and pregnancy. He owes a debt of gratitude to the strong mentorship which he received in this regard from the main investigators of the UK and Ireland Epilepsy and Pregnancy register; Drs' John Craig, Jim Morrow, Stephen Hunt, and Ms Beth Irwin.
Currently Dr. Kinney is undertaking a sabbatical in New York City at the Langone Medical Centre, Comprehensive Epilepsy Centre, NYU to develop his understanding of electroencephalography and the surgical management of epilepsy. He has published work related to status epilepticus, epilepsy and pregnancy, and currently his goal is to continue to carry out research in epilepsy upon his return to Ireland.
If you would like to donate to the Kimford J. Meador Research in Women with Epilepsy Award, please donate here: Meador Research Award 
or please contact us at:
My Epilepsy Story (MES)
2817 West End Ave
Suite 126-426
Nashville, TN 37203-1453
615.822.4224